An unforgettable celebration for the children of BENJAMIN
A unique day of joy and fun was enjoyed by our little friends, the beneficiary children of BENJAMIN from the Pieria area, as well as their mothers.
After a difficult year in every way, and after the end of the school term, BENJAMIN Child Support Society organized in collaboration with the Chopper Riders Club in Kallithea Pieria a unique afternoon for our little friends.
The program of the celebration included magic tricks and games by the guest "Magician", face painting, delicious food (barbecue, ice cream, donuts and sweets), wonderful gifts, as well as songs and dance.
Young and old, children and their mothers, enjoyed this celebration very much and their smiles were our best reward.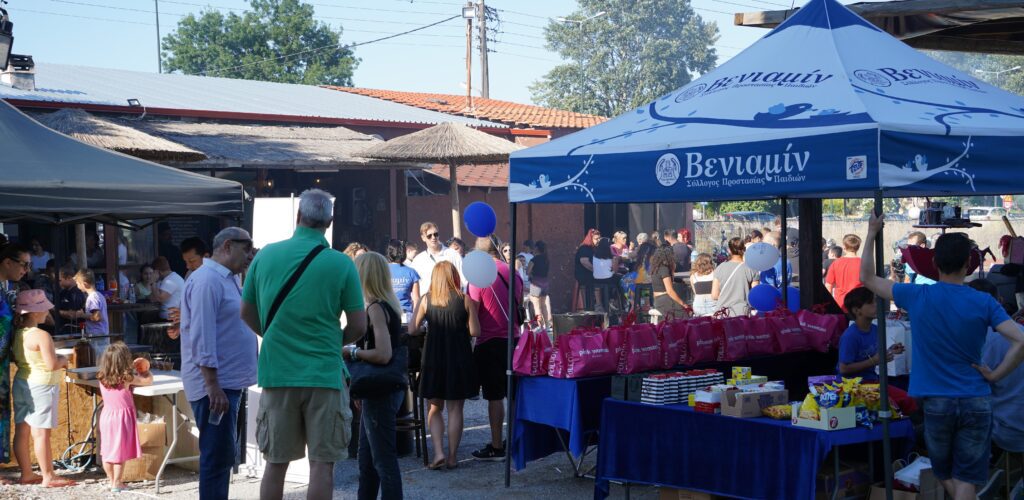 The children's celebration was honored with the presence by the representative of the Most Reverend Metropolitan Kitros Platamonos and Katerinis etc. Georgiou p. Filaretos Bayramis, the Member of Parliament for Pieria (ND) Mr. Xenofontas Baraliakos, the Member of Parliament for Pieria (SYRIZA) Ms. Betty Skoufa, the representative of the Member of Parliament of Pieria (ND) Mr. Savvas Chionidis, Mr. Savvas Karipidis, and Ms. Mihou Maria with her husband Mr. Tzaga Konstantinos.
The president of the Union of Ex-Servicemen of the Greek Police, Mr. Adamopoulos, the president of the Association of Thessalon N. Pieria, Mr. Siatras, the president of the Hellenic High School, Ms. Polytimi Stamatopoulou-Papakosta, and the vice-president, Ms. Marillis Kargioti, the former basketball player and current basketball coach Mr. Giorgos Chrysanthopoulos, the Vice President of DI.KE.DI.K Mr. Dimitrios Zisimopoulos, the Stupid Fast Motorcycle Association of Makrygialos, the coordinator of the Free Cyclists of Pieria Mr. Dimitris Milioris as well as Mrs. Danai Gidarakou (Pink Woman).
Also participating in our celebration were children from the supported living shelters of Merimna Paediou Katerinis as well as the Association of Parents – Guardians & Friends A.M.E.A N. Pieria "Kafe Komboloi".
The participation of the fire department was also important, which contributed to the creative educational activity of our friends from the Komboloi Association.
At the end of the celebration, BENJAMIN offered beautiful gifts to all the children, as well as sweets.
For the perfect organization of our children's party, we would like to thank:
The president Mr Ioannou as well as all the members of the Chopper Riders Club Katerinis who contributed to the perfect preparation and organization of the celebration area.
ELVEK Santikidis Meat Industry,
Gotzamanidis Beverage Cellar,
TOYOTA Podas Company
PLATON Private School
Sanitary Ware-Stathis Ceramica Tiles,
Auto Check In
Pharmacy Store Halaitzidou Christina
Insurance Office Kokelidis Konstantinos
Megas Restaurant
Tsaknakies Sweets
Avgerinos Restaurant
Aktaion Hotel, Zefyros Hotel
Sanitary ware-Tiles Kastaniotis,
Hotel HELIOS-Paralia Tours,
Kosmidis Optical Store
Proodos Super Market
CrepaLand (Margaritis Dimitris)
Sponsorship Videos: https://fb.watch/dOuXPSNDZS/
More Photos: https://drive.google.com/drive/folders/1eEXXBXjSgNiqK44B6offLKkuH72FsW3s?usp=sharing
We wish everyone a good and restful summer.
On behalf of BENJAMIN Child Support Society
The President
Aristidis Petrides