Welcome
We welcome you to the website of BENIAMIN Child Support Society
Welcome
We welcome you to the website of BENIAMIN Child Support Society
Welcome
We welcome you to the website of BENIAMIN Child Support Society
Welcome
We welcome you to the website of BENIAMIN Child Support Society
Welcome
We welcome you to the website of BENIAMIN Child Support Society
Welcome
We welcome you to the website of BENIAMIN Child Support Society
We welcome you to the official website of the BENIAMIN Child Support Society
The BENJAMIN Child Support Society is an independent, non-profit, philanthropic organization based in Katerini, Northern Greece and established in 1994 with the decision by the Court of First Instance of Katerini. Its founding members were people who were brought up in the Katerinis Orphanage in the 1950s and who today help children in need or at risk.
It is worth mentioning that 2 of the current members of BENJAMIN were years ago, supported children of BENJAMIN, and today, as adults, they offer their time with love, voluntarily, to the children in need.
Beneficiary children and mothers
Supported Children since 1994
Who we are

The BENJAMIN Child SupportSociety is
an independent, non-profit, philanthropic organization based in Katerini, Northern Greece and established in 1994 with the decision by the Court of First Instance of Katerini.
Ways of support
The BENJAMIN Child Support Society relies
exclusively on financial donations
from individuals and businesses
as well as from donations in kind (food).
A legal receipt is issued for each donation
donation deductible from taxable income

Support a child in Greece too
You can easily, quickly and electronicallydonate any amount you wish to help the children in need supported byBENJAMIN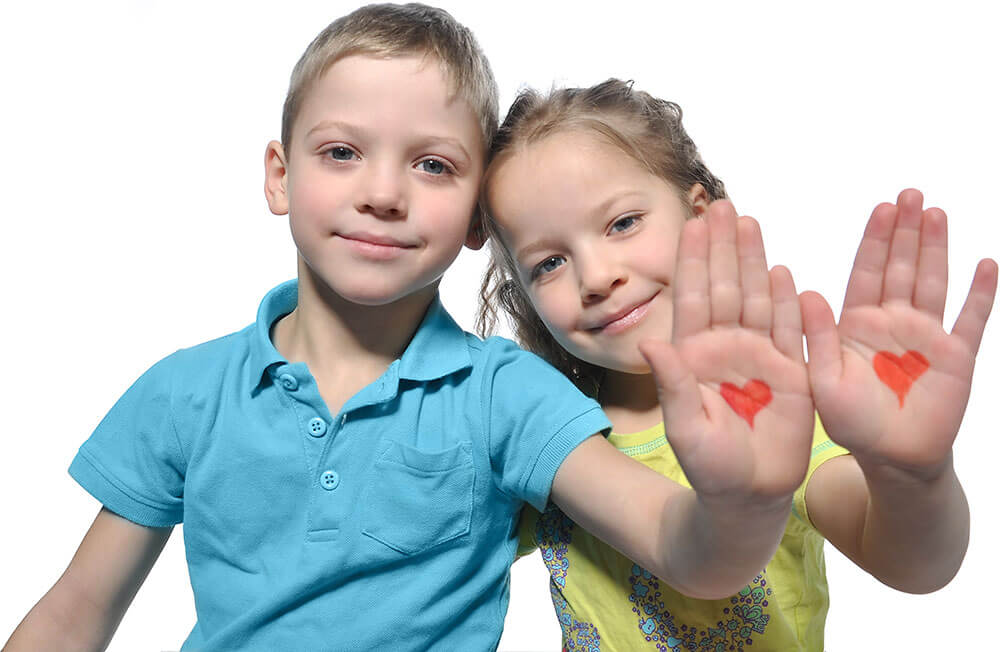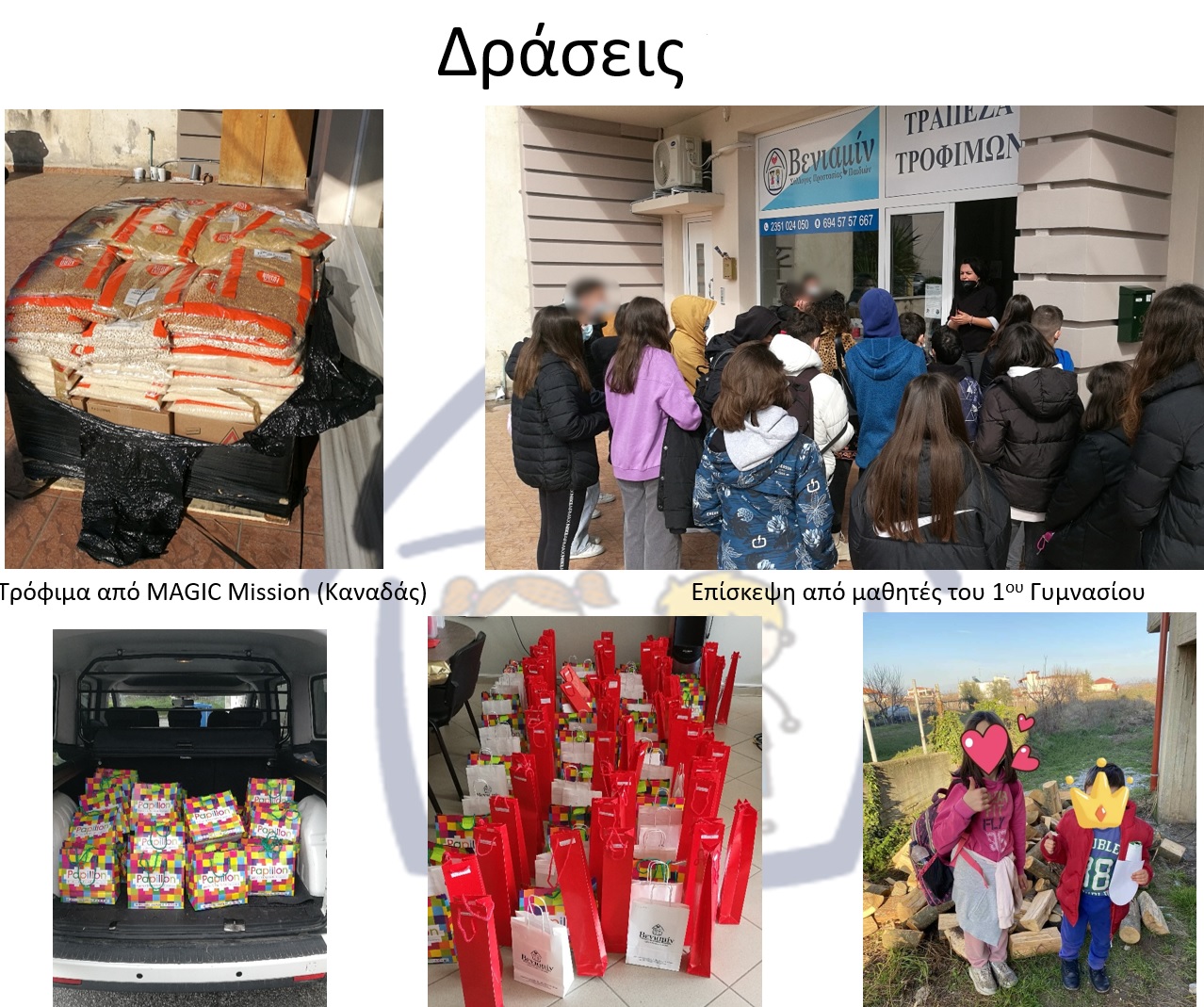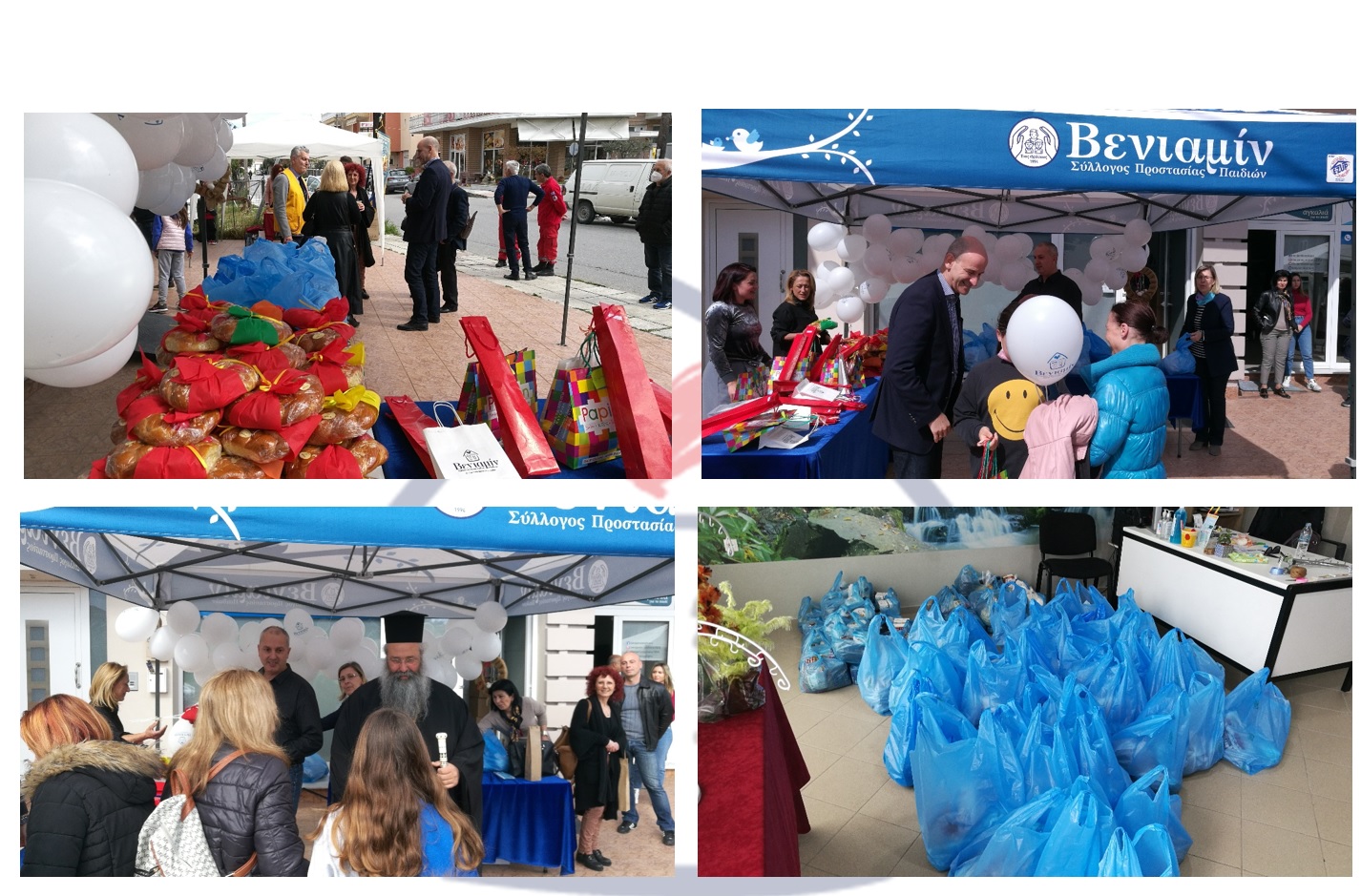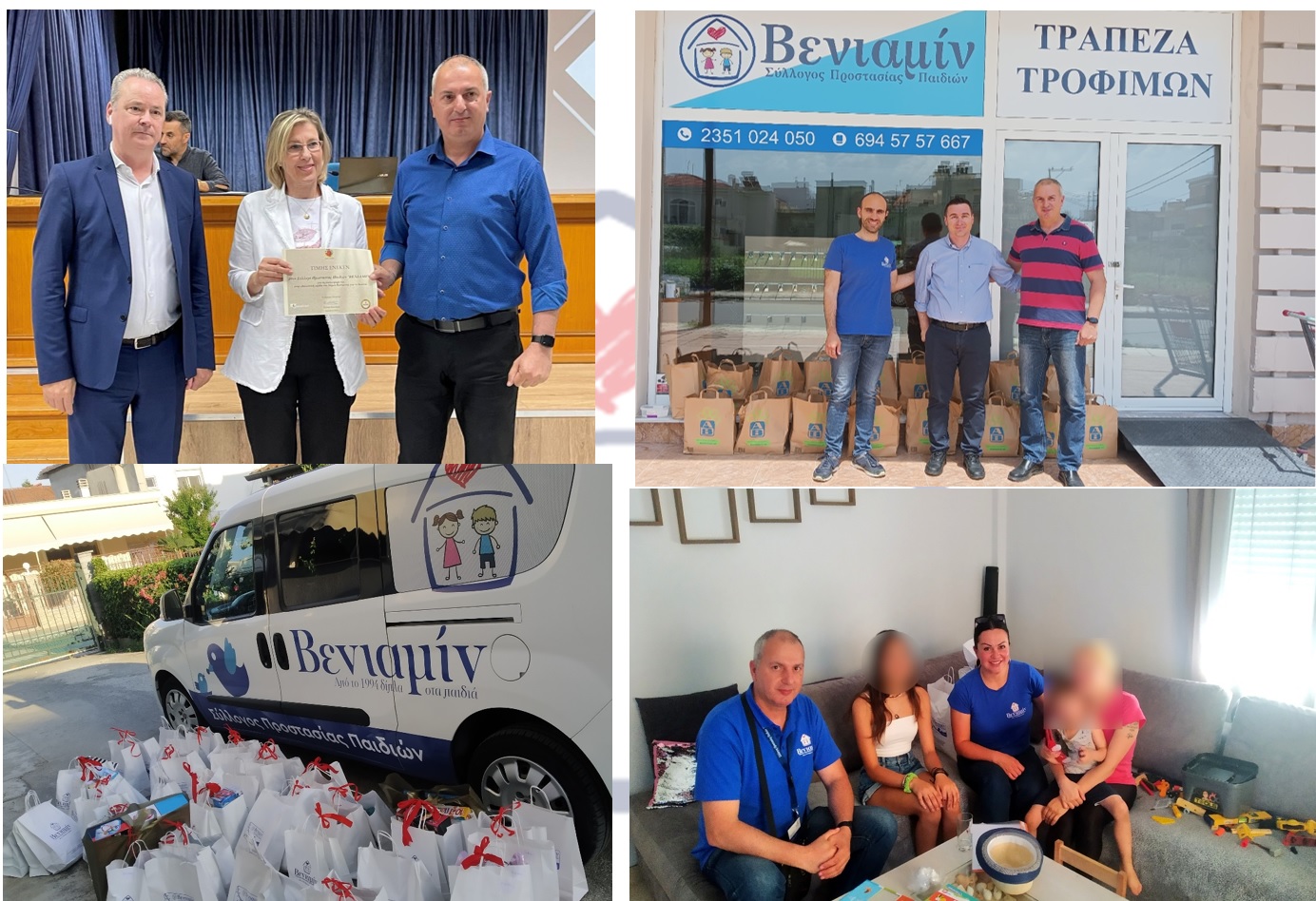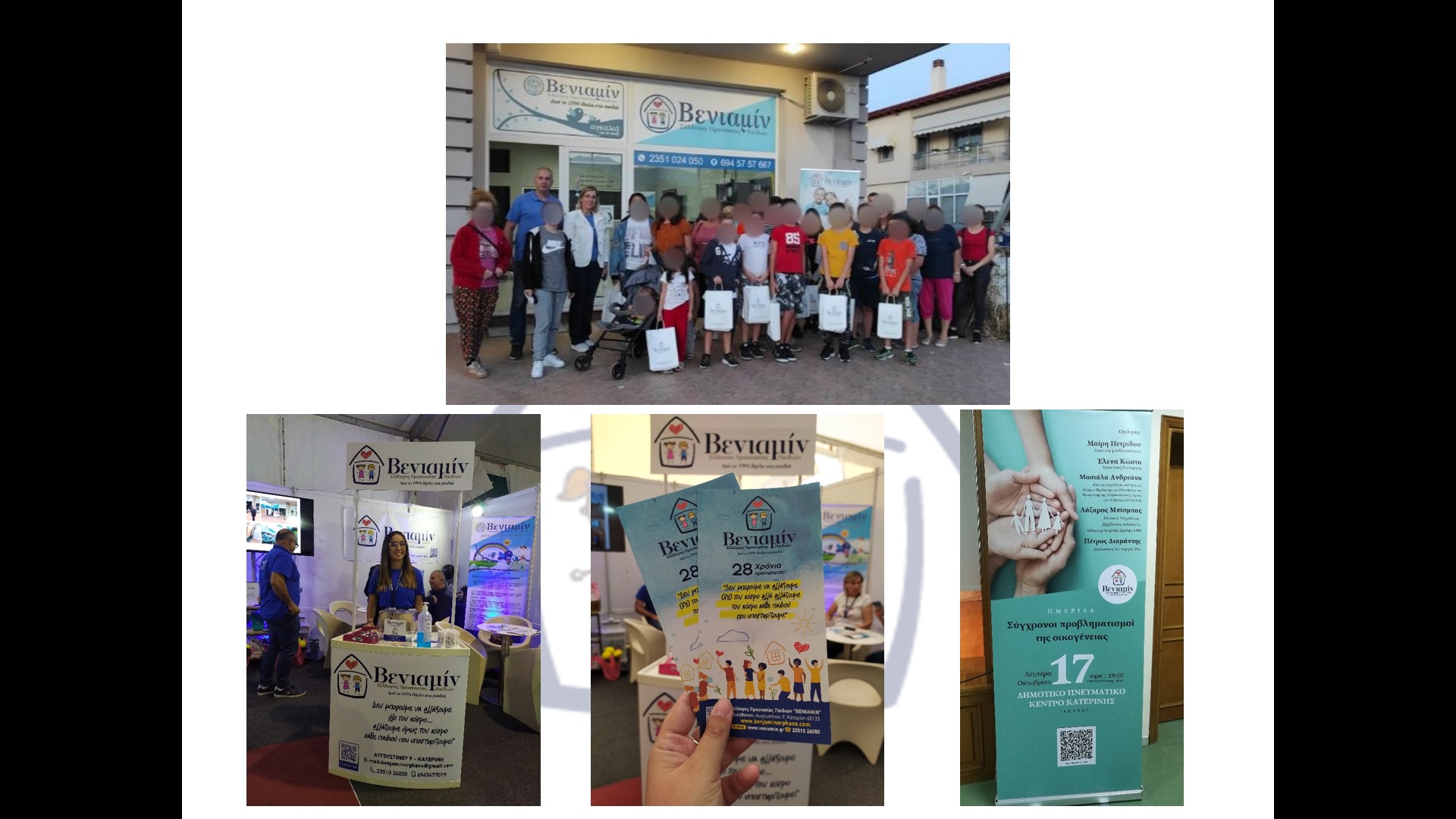 Find out our news from Benjamin's blog:
The BENJAMIN's President Mr Aris Petridis gave an interview to the Lifesharing.gr portal and more specifically to Mrs. Vicky Kalofotia which you can read at the following link: INTERVIEW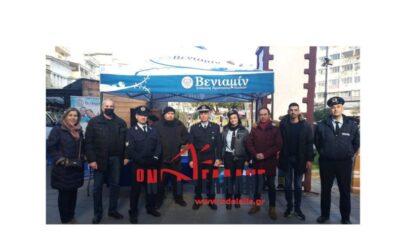 The Union of Police Employees decided not to hold the traditional children's Christmas dance and the amount that would be spent on it will be allocated to the purchase of Christmas and New Year's table goods for families who are in financial difficulty. As part of...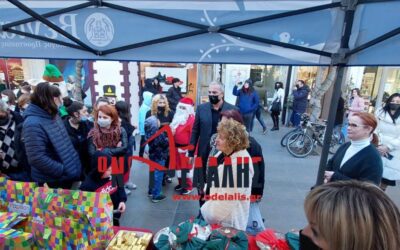 Another action of the highly active BENJAMIN Child Support Society took place, in the context of the Christmas and New Year's holiday season. Thus, after yesterday's (22/12) distribution of food to people in need, through the cooperation with the Union of Police...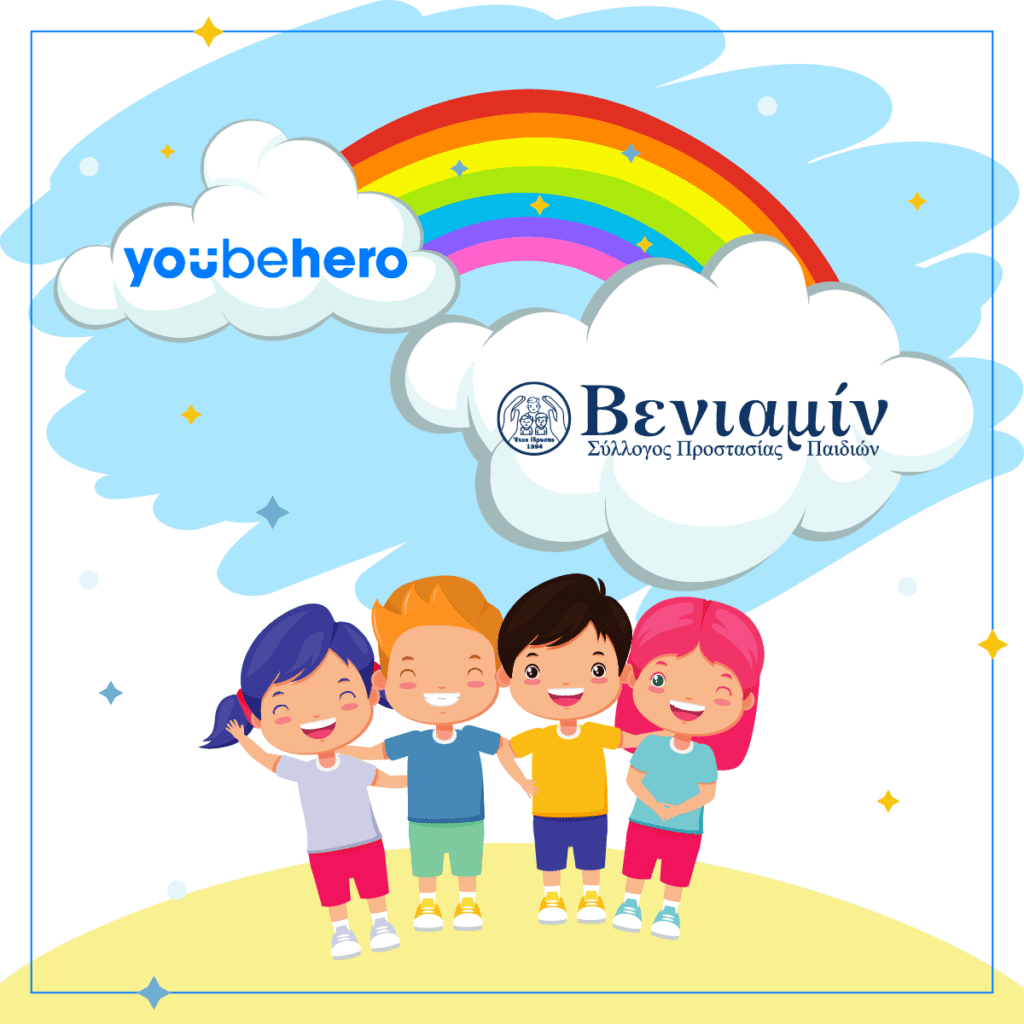 YOUBEHERO and BENJAMIN join forces for the benefit of children in need
YouBeHero is an online platform that turns your online purchases into
donations
to your favorite organization! σου οργάνωση
!
It is very simple to use and registration only takes a few minutes.

or simply click on the"Choose organization" button next to it.
Cooperation between BENJAMIN and Goodfairy.gr
Support through myWorld benefit program
The way to start saving money on your everyday purchases is just one step away:
New Member Registration Link https://cbw.to/rchosn
Become a MyWorld member today for free and without any commitment and benefit in many thousands of stores in our country but also in 46 other countries by earning money back and points.
Fill in your information and become a member for free and without any commitment by filling in your email by clicking on the link above.
You will soon receive the member confirmation link in your email.
For any information – questions we are at your disposal every dayMonday to Friday 08:00-16:00 either electronically at benjaminorphans@gmail.com or at 23510-24050 (ext. 2)
Shopping with Cashback –Το MyWorld Benefits App It's very easy
With the free MyWorld Benefits App you can benefit from all your shopping on the go by receiving shopping privileges:
Just find myWorld Shops in your area
Secure anytime Shopping Point Deal's
Convenient access from your profile and digital myWorld Card
Shop everywhere with myWorld Benefits
Online registration instructions
1. Click on
fill in the online form*
2. Once you receive the confirmation email, click on the activation link.
3. Download the
myWorld Benefits
app and login with your email as username and the password you entered when confirming your registration and you are ready.
4.You can watch the operating instructions of the myWorld app in the following video so that not a single euro goes to waste….
Watch the video
Get informed directly about our events
Your participation in them is valuable
There are no upcoming events.