The awareness of domestic violence, as well as the problems that the family faces today, were the topic of the coference day with speakers, executive social workers of BENJAMIN, Mrs. Mary Petridou and Elena Costa, as well as the participation of the Pieria Prevention Center ATRAKTOS with clinical psychologist Mrs. Andreana Masiala as well as the participation of the clinical psychologist-sexology consultant and doctor of the AUTH medical school Mr. Lazaros Bisbas and the MSc social worker Mr. Diamantis Petros whom we sincerely thank.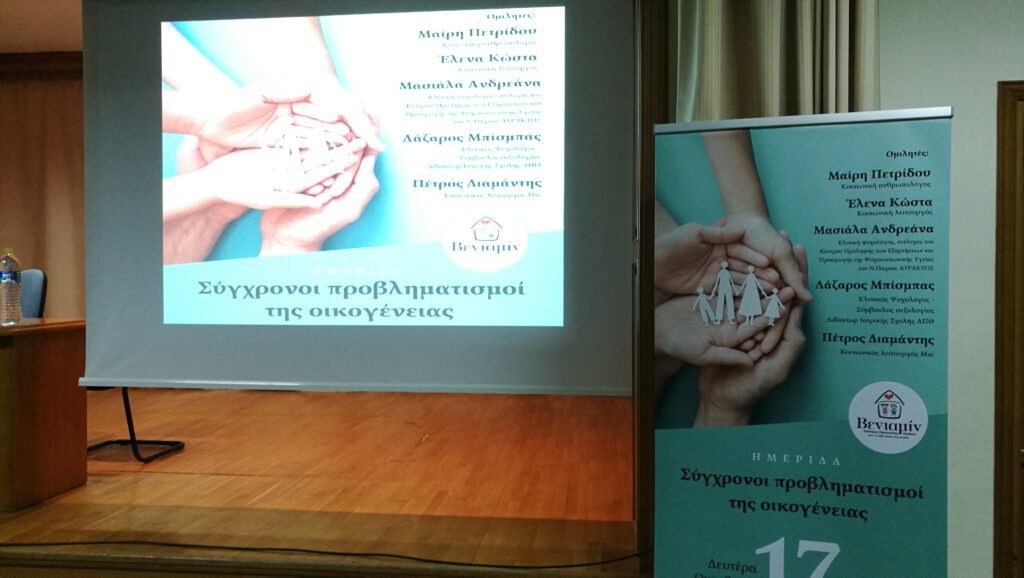 The speakers mentioned the need to create the Day Care Center https://benjaminorphans.com/vision/ envisioned by BENJAMIN and which will bring significant benefits to the local community by improving the living conditions of children living in NEED or at risk and at the same time supporting the family.
It was also mentioned the importance of the agencies (public and private) of our city to form a network, in which incidents will be referred to the appropriate structures that exist so that you do not lose valuable time.
The event was presented by the journalist Elina Diamantopoulou, while they attended
– Pieria Member of the Greek Parliament Anna Mani – Papadimitriou,
– the representative of the Pieria Greek Parliament Member Mr Hionides, Mr Savvas Karypidis
– the representative of the Pieria Greek Parliament Member Mr. Xenofonta Baraliakoy, Mrs Anna Baraliakou
-the Katerini's Mayor Representantive, Mr Kyriakides
-the president of the retired Police Officers Mr Dimitris Adamopoulos
– the Katerini's Chopper Riders Club president and its members Mr Ioannou
– the president of the society "Komboloi" Mr Georgiadis
– the president of Diabetic Association of Pieria Mrs Oustabasidou
– the president of the Association for the Protection of Persons with Autism of Pieria Mrs Chrysopoulou
– the president of Katerini's section of Olympiada Mrs Flogera
-the Greek Parliament candidate member with the political party Syrixa Mr Zisimopoulos
– The prevention Center Atraktos President Mrs Simou
Mr Elias Tapras and BENJAMIN's ex-president and founder Mr Harry Anastasiou with his wife Joanna
We sincerely thank all the volunteers who helped organize this conference and of course the people who attended it and honored us with their presence.
BENIAMIN, demonstrating a high degree of social sensitivity in this matter, will continue to organize similar actions in the future with the aim of informing and raising awareness of society.
The action was implemented within the framework of the project "Organization and Strengthening of Social Support Actions for the Disabled and Vulnerable Social Groups and Social Solidarity Bodies of Macedonia and Thrace" with the distinctive title SUPPORT of the Ministry of the Interior (Macedonia and Thrace sector)
You can download the files of the presentations in powerpoint format from the following links: