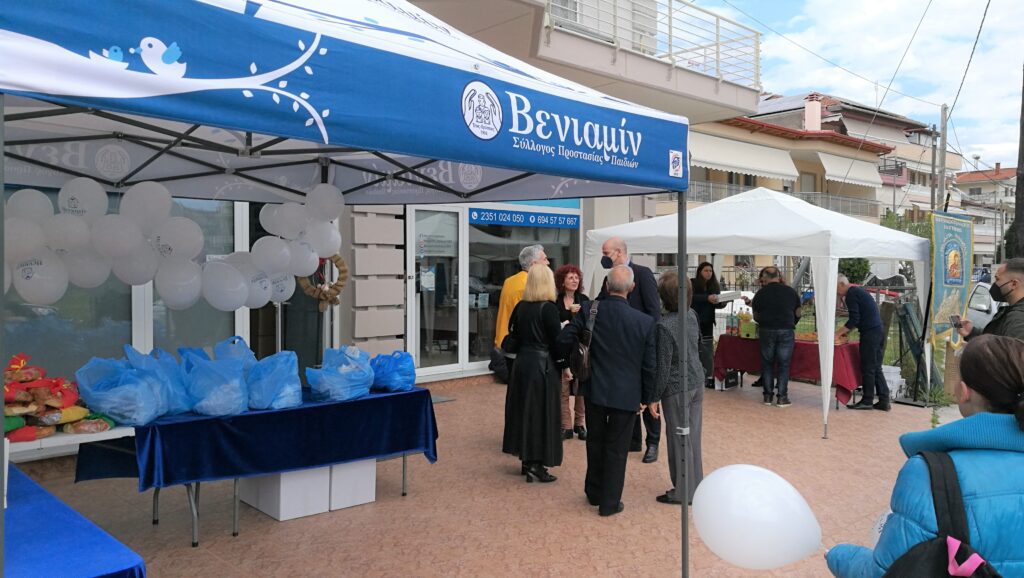 The BENJAMIN's Easter event in collaboration with the Pontiac Cultural Society "PANAGIA SOUMELA" was crowned with success, during which Easter candles, gifts and extra food for the Easter Table were distributed to the benefiting children and their mothers who live in Pieria.
The long-term cooperation between the two associations sends a strong social message to all our fellow citizens with a positive impact on the daily lives of the benefiting children and their mothers.

The event was honored with their presence by:
The His Eminence local Orthodox bishop of Kitrou, Katerinis & Platamonos Mr. Mr George
The deputies of the Prefecture of Pieria, Mr. Xenofontas Baraliakos, Anna Mani-Papadimitriou and Savvas Chionidis
The Deputy Mayor of Tourism of the Municipality of Katerini, Ms. Maria Terzidou
Ο The President of the Katerini LIONS club Mr. Mr. Kallifatidis
The owners of the stores AFOI EITSIDI (Welcome Stores of Katerinis)
The Greek Red Cross (Katerini Department)
The president of the local mountaineering club of Katerini Mr Tekiridis
BENJAMIN's Lawyer Athanasios Liakopoulos
The Choper Riders Club and its members
The President of the Union of Police Officers of Pieria, Mr. Xomalis
The event was framed by the presence and practical help of many BENJAMIN's friends and supporters. All those who participated in the event had the opportunity to taste fasting foods from the Pontiac Association "PANAGIA SOUMELA".
Thank you to all our sponsors who helped collect all the food.